News
18 January 2012
Invitation Rookies showroom
Everyone, welcome to visit us at Rookies showroom the 7th and 8th of February. Rookies is an award created by the Swedish fashion council.
Looking forward to seeing you 12-5 pm either of the days at Drottningatan 81B.
10 January 2012
Showrooms and fairs AW12 collection
AW12 collections will be shown in our showroom and at the following places
Berlin, Show & Order, www.showandorder.com, 17-20 January
Stockholm, Formex, 19-22 January
Copenhagen, Gallery, room 211, 2-4 February
Düsseldorf, B1 & GDS, Benningsenplatz 1, 28 January-29 February
Stockholm, Rookies showroom, Drottninggatan 81 B, 7-8 February
Tokyo, Maiden showroom, 2-9-10, Sendagaya,Shibuya-Ku, from 14 February
9 January 2012
New shipping policy
From the 10th of January we will offer free shipping to the EU and Norway. For the rest of the world we will unfortunately have to a shipping cost of 15 euro.
8 December 2012
New distributor Japan
Happy to present Maiden Company as our distributor in Japan.
Sales office and showroom:
2-9-10, Sendagaya
Shibuya-Ku, Tokyo
81-3-5410-8873
info@maiden.jp
1 December 2012
New agent Germany

We are proud to present Mimi Paatzsch as our new agent for Germany. She will present our AW12 collection in Berlin and Düsseldorf.
Mimi Paatzsch
Weg Nach den Hingbenden 5
40489 Düsseldorf
+49 (0) 151-21 22 9271
mimi.modeagentur@unitybox.de
24 November 2011
Nominated to Rookies 2012

We have been nominated to the Rookies prize for new and promising Swedish fashion labels.
16 November 2011
Invoices also to Norway and Finland

In collaboration with our parter Klarna we can now also offer invoice as payment to both Norway and Finland. Try it!
26 October 2011
New retailers

Emma & Malena in Gothenburg and Tjallamalla in Stockholm are new retailers.
25 October 2011
Lånegarderoben

We have sponsored Lånegarderoben with a Hanna dress. Lånegarderoben is a Stockholm based clothing library where you can borrow garments for a period of time. Read more about this interesting initiative
here
.
11 October 2011
New press contact
We are happy to present
Scandinavian Press Room
is our new press contact for Sweden and Scandinavia.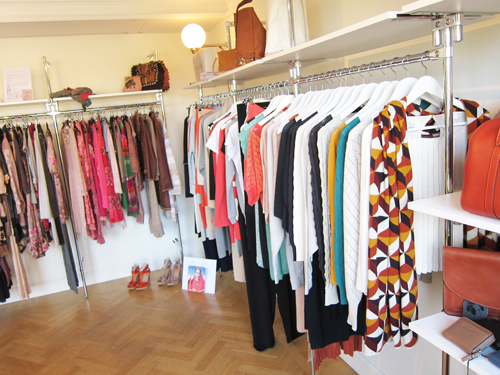 2 October 2011
Sample Sale
We are selling samples and previous collections at Tredje Långgatan 13A, Gothenburg.
Thursdag 6 October, 3 pm-6 pm
Friday 7 October, 3 pm-6 pm
Saturday 8 October, 10 am-5 pm
Everyone welcome!
15 September 2011
New retail collaboration with Liebling
We are happy to have Liebling in Malmö as our new retailer. Liebling is located at Davidhallstorg 3 in Malmö, Sweden.
11 August 2011
Attending FORMEX
We are attending design fair FORMEX 1-4 September 2011 in Stockholm. We are in hall A, stand 41:44 looking for retailers, agents and distributors. If you happen to be there, do visit us!
10 July 2011
New delivery of Evas

The long awaited delivery of new Evas is finally here.
Eva
is the perfect soft, warm all-round cardigan. New colour blue is great to keep you warm a chilly summer night. Dark grey has been sold out in several sizes but is back in stock.
1 July 2011
Store collaboration with Rivera in Basel, Switzerland

We are happy to present our very first store collaboration
.
Now Swiss customers can also find a part of our collection at
Rivera
,
Feldbergstrasse 43 in Basel. There you can also find one of our favourite brands, Sessùn.
12 June 2011
Fabric samples
We have created a folder with fabric and colour samples of the cotton news. If you wish to have it too, please
send us your address here.
You can also request samples of other styles. We have some in stock to send out.
26 May 2011
Soraya in new colour
Check out then new colour of
Soraya in light grey
.
23 May 2011
Editor's choice in Mama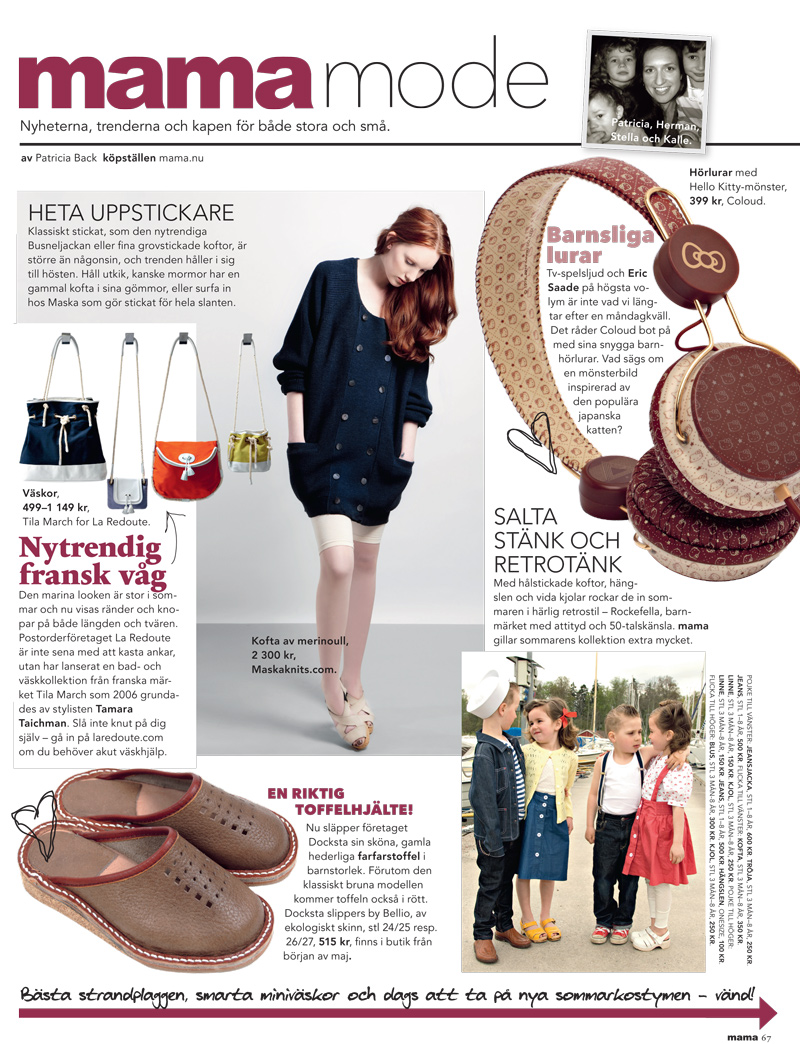 20 May 2011
Visit our studio!
Do you want to try something on, check a colour or just experience our amazing yarns? Please feel very welcome to make an appointment to visit our studio at Tredje Långgatan 13A in Gothenburg. Contact us at info@maskaknits.com or call 031-31 33 239.
19 May 2011
Peruvian Pima cotton collection
We now have three new arrivals in Peruvian Pima. Not all cottons are created equal. Like coffee, cashmere or fine wine, the quality of cotton can vary greatly. Thanks to ideal growing conditions, extra-long staple length and hand harvesting, Peruvian Pima Cotton is the world's finest Pima. It is prized for its exceptional softness and brilliant luster, as well as its durability. One touch is all it takes to discover just how luxurious cotton can be!
13 May 2011
New Sorayas in store!
We just got a few
new Sorayas
and they look fantastic. Softest wool, mother-of-pearl buttons and very beautiful colours! Can be worn as a coat in summer.
13 Mars 2011
New lookbook
Here is our new
lookbook
!
11-12 Mars 2011
Sample sale
At Tredje Långgatan 13 A, Gothenburg Friday 2 pm-7 pm
Saturday 11 am - 5 pm
Scarves! Cardigans! Dresses! Link to Facebook event
here
.
27 February 2012

Tokyo fashion fair
MASKA will participate at IFF in Tokyo 20-22 July. The event is arranged by the Swedish embassy in Tokyo and the Swedish Trade organisation.
11 January 2010
Winter offer

Our sale will go on until middle of March. Don't miss it!
12 December 2010
Winter offer
Get this elegant
headband
in kid mohair and silk for free when buying a cardigan or a dress.